In March 2018 I was appointed to the Board of Trustees of the Desiderius-Erasmus-Foundation and I am proud of it. As a member of such high-profile and illustrious circle that is representing an outstanding cross-section through our society, I feel very much honored and in there very comfortable.
Zielsetzung der Desiderius-Erasmus-Stiftung (Aussage unserer Webseite, Stand 2018-08)
The Desiderius Erasmus Foundation (DES) promotes political education and is committed to the democratic discussion and interceding of conservative, patriotic and liberal values and ideas.
The Foundation is recognized as a non-profit organization and is legally represented by the foundation association and its member`s general meeting res. by the elected honorary executive board.
We are the youngest political foundation in Germany and are ideationally close to the Alternative für Deutschland (AfD – Alternative for Germany). As a close-to-party foundation, we operate nationwide and act independently and autonomously according to the legal requirements.
We are committed to the consolidation and renewal of our democracy through more direct citizen participation and less EU patronage. Less Europe is more Europe.
The constitutional mandate to participate in the political decision-making of the nation, the old parties have simply forgotten or severely damaged. They have twisted this mandate into a monopoly, whereupon voters react with disappointment, weariness and reluctance. "Everything could be different but nothing I can change": said Niklas Luhmann described the mood in the country already some time back. Who or what could better counteract than a political foundation ?!
On European level, the power of decision-making of the national parliaments did widely shrink to a pseudo-competence in which the by elections legitimized parliaments are more and more acting as vicarious agents of democratically not legitimated Brussels' rules only.
The Executive Board
The Executive Board of the Desiderius-Erasmus-Foundation is formed by:
Board of Trustees
The members of the Board of Trustees of the Desiderius-Erasmus-Foundation are: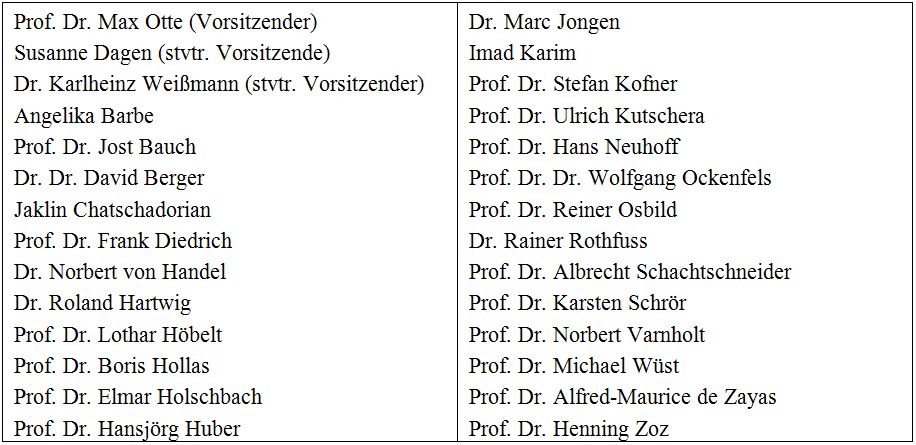 Henning Zoz, August 2018